YWC Programme Spotlight – The Water and Climate journey of Matthieu Blanchard
The Youth for Water and Climate Programme, an 8-month capacity-building program for young professionals in the water and climate sector, aims to support young professionals in acquiring transversal and specific skills which are essential in the water and climate sector.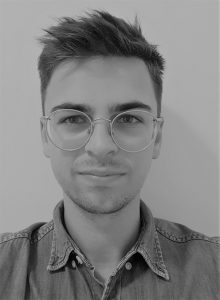 Launched in January 2022, twenty young water and climate professionals from Hungary, Slovakia, Belgium, France and Sweden form the first cohort of the Youth for Water and Climate Programme. This program is led by a consortium of several organisations: ISW-SWE, GWP, GWP-Hungary, GWP-CEE, cewas and Good Planet Belgium.
Over the next few months, we will be presenting to you the inspiring profiles of the young professionals who have embarked on this journey.
For our first interview, we exchanged with Matthieu Blanchard, a 23-year old graduate from France.
Tell us about your water and climate journey.
"After finishing my secondary education (baccalauréat qualification), I wanted to find an academic path that would allow me to combine social development studies with my passion for the environment. I thus chose to pursue my bachelor's degree in geography. During my studies I touched upon a lot of things such as land planning, climatology, natural resources management, geographic information system, transport and mobility and social geography. During my last year, I discovered a passion for water thanks to my hydrology class teacher. I then chose to start my Masters in Water and Societies at Montpellier in 2019. During my Masters degree, all my courses were related to water resources, but each area of study was different (water economy, water and agricultural issues, water and governance, water and climate change). Thanks to this diversity, I now have a broad vision about water issues. I graduated from my Masters in 2021 and then chose to embark on this Erasmus+ programme.
Thanks to my Youth for Water and Climate Programme mentor, Mr. Thierry Vatin, Directeur Général de l'Agence de l'eau Artois Picardie, I was able to join the water agency team in their offices for 15 days.
More precisely, I was in the Interventions Department of the Water Agency. This department ensures the development and implementation of territorial priorities in a given geographical sector (North Sea for example) and in various fields (aquatic environments, sanitation, international relations and youth, etc.). It participates in the development of files (technical/financial). Finally, this department promotes the Water Agency and disseminates the French water management model, otherwise known as IWRM.
During this professional experience, I collaborated with the International relations and youth service and particularly with the main person in charge of this department, Mrs Christine Dericq. She gave me a lot of information about her career and I learned how the Water Agency helps to finance water development projects. I had to analyze water development propositions in developed countries to see if the projects are really sustainable in the long term and if they are eligible for financial subsidy. Also, I was brought to discuss with an association that conducts development projects in African countries, especially in northwest Africa. This allowed me to understand the link of the water agency with actors who are present on the ground/field. Then, I had to observe and understand the water agency's involvement in the 9th World Water Forum.
Moreover, my mentor Thierry Vatin invited me to meet with some people in the water agency who are related to my academic profile. The main objective was to meet with more experts and to discover new areas of studies. I met with one of the people in charge of the IWRM master plan of the water agency. He gave me some IWRM documents and I had to analyze them. Finally I met a person who was responsible for the water economic tools (polluter pays, payments for environmental services, incentives tools, etc).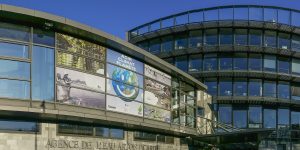 What are you most proud of regarding your water and climate journey?
What I am most proud of is that through my studies, I have touched upon various different subjects such as economy, sociology, geography, governance, climatology, statistics, etc. This allowed me to explore various different aspects of the issues related to water that our societies are facing. I am not an expert in one given field but I have a global and well-rounded view of the issues related to water and climate. I believe these skills will allow me to work alongside experts to enhance connections between sectors and avoid working in silos as water touches upon every single aspect of our societies.
What is the element of the YWC Program that you have enjoyed the most so far?
The Blended Mobility in Hungary was definitely my favorite part of the Programme so far! I loved meeting the participants and organizers in person. We had a lot of interesting exchanges. The ice-breaker activities allowed us to build relationships with participants from several different countries around our common passion for water and climate.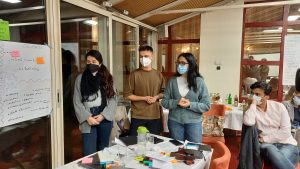 How has the program impacted your journey as a young professional in the water and climate sector?
This program has impacted my journey in so many ways. My mentorship experience with Mr. Vatin has been a huge component of the program for me. This allowed me to gain visibility and recognition amongst more experienced professionals in the sector. When I met with the professionals from l'Agence de l'eau Artois-Picardie, they were more interested about learning more about the YWC Programme than about my studies! This was a really great networking opportunity.
What are your career aspirations? What would you like to achieve in the next 5 years?
I would like to work in the African continent. I would love to learn more about their cultures, customs, and languages which are so diversified. In 5 years, I would love to be involved in a project that is truly helping communities prepare and adapt for the future. I want my work to be truly impactful. I would love to have responsibility in a project and make things happen but to always keep learning. I am interested in working in various types of organizations – NGOs or public sector or even the private sector.
Any advice you would give to other young professionals whom are just getting started with their careers?
Don't be afraid to try new things!
A message you would like to give to experienced professionals who want to better support young professionals?
There are two main elements I would like to share with them. Firstly, I am sure that there are plenty of experienced professionals that are sharing their knowledge and experience, but as a young person, we do not see them. We feel that we don't have the opportunity to meet with them and exchange with them. I would invite them to be more visible and accessible to young professionals! Whether that be by visiting schools or exchanging with younger professionals during conferences. Give some time to come and speak with us.
Secondly, I would invite them to stay open-minded as to what they can learn from young professionals! We can bring some fresh ideas and new perspectives.
Anything else you would like to add?
Sign-up for the next cohort of the Youth for Water and Climate Programme! It's really an amazing opportunity to meet with people from various countries and gain new skills.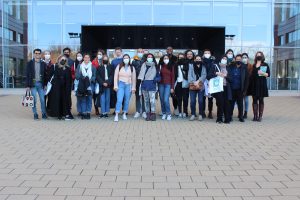 The Youth for Water and Climate Programme is financed by Erasmus+, the Swiss Agency for Development and Cooperation and l'Agence de l'Eau Artois-Picardie.