Youth for Water and Climate platform beta-launched at World Water Forum
The Youth for Water and Climate platform officially launched on World Water Day in Brasilia. Developed by ISW, the Global Water Partnership and partners, the web platform connects young water leaders to technical and financial resources.
On March 22, ISW Executive Director Sarah Dousse and GWP Steering Committee member Tracy Molefi official launched the platform at the Swiss Pavilion, with Molefi acting on behalf of GWP Chair Dr. Oyen Sanjaasuren.
ISW project coordinator Hannane Sellali presented the platform and beta version of the site, youthwaterclimate.org.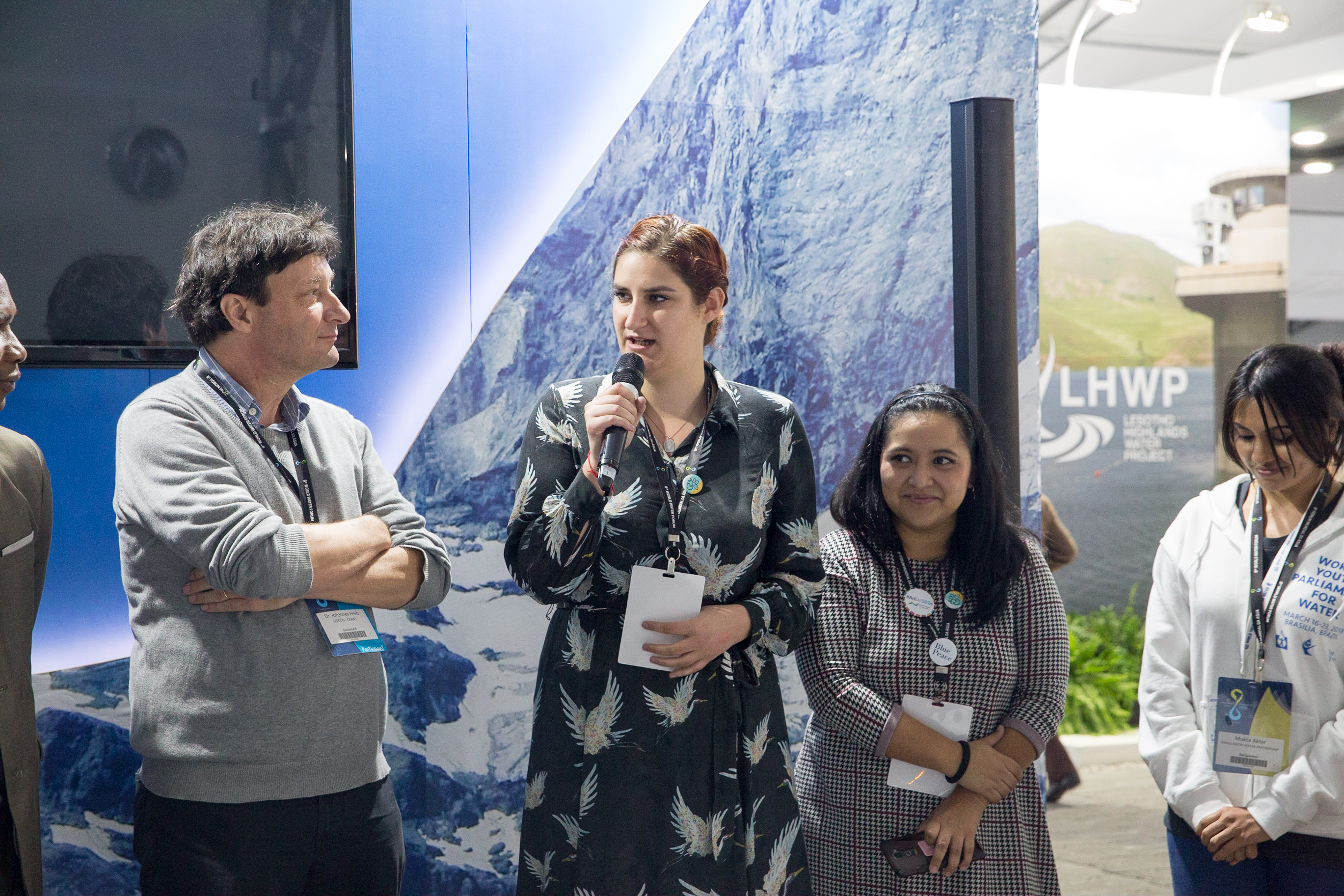 "YWC will change the way senior decision makers see young water leaders," said ISW executive director Sarah Dousse.
The impetus for the platform grew out of the gap in support available for youth water projects around the world.
"We have so many youth that are real innovators in terms of their ideas and their ability to build a network," said Sellali. "But owing to their circumstances or location, many of them never get to connect with the guidance and support they need to make their projects a reality."
Experts offering support in their spare time often receive so many requests for advice that vetting the most worthwhile projects becomes difficult and frustrating. YWC aims to remove this headache, only hosting projects on the platform that have passed required quality standards.
On the YWC platform, youth projects and experts are matched in a fashion similar to popular online dating apps.  In a "speed dating" round, youth pitched their projects to a group of experts from a diverse range of organizations. Projects were presented by:
Mukta Akter (Bangladesh Water Partnership): Empowering Young Women through Rainwater Harvesting Systems for Homestead Green Gardening and Generate Entrepreneurship
Marly Julajuj Coj (Guatemala): K'aslem Ya'h – Home rainwater harvesting systems in Guatemala
Jelena Krstajic (Montenegro): Youth Voices, Policy Choices
The group of experts consisted of Amanda Ammann from the Swiss Agency for Development and Cooperation, Johannes Heeb from CEWAS, Pierre-Marie Grondin of PSEau and a member of the ISW board, and Marcus Agbekodo from the Artois-Picardie Water Agency (France).
"We will be able to reassure donors and partners that they're supporting high quality projects," said Tracy Molefi of the GWP Steering Committee.
The Youth For Water and Climate beta is live now, visit the site to explore innovative youth projects.
Cover photo from left to right: Marly Julajuj Coj, Julienne Roux, Hannane Sellali, Sarah Dousse, Tracy Molefi, Jelena Krstajic, Mukti Akter