Launch of the Youth for Water and Climate Programme!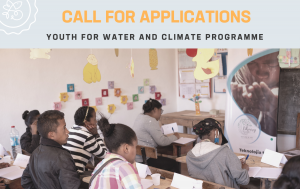 What is the Youth for Water and Climate Programme ?
The Youth for Water and Climate Programme is an 8-month capacity-building program for young professionals in the water and climate sector, led by the International Secretariat for Water, Solidarity Water Europe, cewas, Global Water Partnership, Global Water Partnership Hungary, Global Water Partnership Central and Eastern Europe, and GoodPlanet Belgium.
The program will offer two five-day in-person workshops, a mentorship opportunity, support in finding an internship, a community of practice and a complete online curriculum to support youth who wish to further develop their professional skills and/or entrepreneurial skills in the water and climate sector.
Climate change is disrupting weather patterns, leading to extreme weather events, unpredictable water availability, exacerbating water scarcity and contaminating water supplies. Climate change is happening now. We must act, and water is part of the solution. 
This program, financed by Erasmus+, targets youth aged 18-30, currently based in Hungary, France, Sweden, Belgium, and Slovakia, who wish to develop a bankable project in their communities or wish to pursue a career within an existing organisation in the water and climate sector. 
Learn and boost your skills
The YWCP partners developed the YWC Curriculum, an open-source and freely available online course which aims to inform, motivate and prepare European youth to develop innovative and disruptive solutions to tackle some of the planet's biggest challenges, equip them with the needed leadership skills and methodologies to develop their (professional) personality to make a real change, and provide them with methodologies and tools to implement water & climate solutions either as an independent entrepreneur or in a professional career in a existing organisation.
Throughout the YWC Programme, you will be invited to complete the online curriculum at your own pace. The blended mobility workshops will offer in-person capacity building activities around the four themes of the curriculum modules:
Take-up a career in the water & climate sector, 

Develop personal professional skills to become a great leader, 

Learn how to start an impactful business or plan your own project, 

Start a professional career in a water and climate organization.
Receive mentoring from experienced professionals
During the entire program, you will be matched with a mentor, an experienced professional from the water and climate sector, with whom you shall connect at least once a month via phone, Skype/WhatsApp or email. You will receive guidance to maximize the impact of this relationship through the Mentorship Guide developed by the partners.
Get support to find an internship
If you wish to take part in a 4–6-month internship in 2022, the YWC Partners will help you find an internship that suits your learning objectives. Even though we cannot guarantee an internship for all participants, we will do our very best to help guide you towards interesting opportunities. 
Join a wide community of practice
You will be invited to actively participate in an online community of practice with all mentors, partners, and young participants of the YWC Programme. The community of practice will be a safe platform for collaboration and coordinated action, building leadership capacity, sharing of ideas, and improving the quality of knowledge and learning approaches. You will be invited to take ownership of this space and actively participate in its design and management.
What is the calendar of activities?
September 23rd 2021:

Deadline to submit the application

Beggining of October 2021:

Communication of results to participants

November 9th 2021: I

nformation session with participants

January 17th 2022:

Launch of program – Virtual welcoming session

February 7th – 11th

2022: Workshop 1 (Hungary)

End of August 2022:

Workshop 2 (Sweden)
Throughout the program, monthly online activities will be organised through the community of practice. The agenda will be co-developed with the participants during the 1st Blended Mobility. Furthermore, the participants will also be invited to take leadership in organizing their own meetings with their mentor. 
What are the selection criteria?
18-30 years old
Currently living in one of the following countries:

France, Sweden, Slovakia, Hungary, Belgium

(you must be based in one of these countries for the entire duration of the program)
Studying, working and/or volunteering in a field related to water and climate
Strong commitment and interest for water and climate related issues (national, regional or international level)
Significant motivation to take part in the program & availability to take part in all the program activities.
Must be able to communicate in English
Must have access to Internet
What are the fees and costs?
The fees and costs related to the workshops will be covered by the program:
International transportation (economy class seats)

B

asic accommodation 

(take note that you might have to share a room with another participant of the same gender)

3 meals per day 

Local transportation

Activities and program expenses
Covered by the participants:
Insurance (mandatory)

 

Other personal expenses
How can I apply? 
To apply, submit the application form, including a short 2min video presentation and a 200-word essay (more information in the form).

Deadline : September 23rd 2021, 11:59 PM GMT. 
Have any questions?
For any questions, please contact Elysa Vaillancourt, Project Manager at the International Secretariat for Water: evaillancourt@sie-isw.org.
To download the call for application in PDF : Youth for Water and Climate Programme Call for application