About this project
Tsokpokope is a farming community located in the South Dayi District of the Volta Region in Ghana with a population of over 700 people. The community has only one borehole drilled in 2002. Currently, the solar pump for the borehole is broken making it difficult to extract water, thereby forcing people to source drinking water from streams. iWASH Africa seeks to rehabilitate the solar powered borehole while sensitizing the community on best practices in water, sanitation and hygiene and training young people from the community to be able to maintain the facility. With a toll system in place, 20% of the revenue will be set aside for the maintenance and 30% for scaling up.
Goals and Objectives
Goal - To provide potable water to the Tsokpokope community by rehabilitating broken down solar powered borehole.
Objectives -
1.     To rehabilitate and upgrade a solar powered water provision system (borehole) to produce at least 10,000 litres per day.
2.     To train 5 young people on the job for the implementation of similar projects in other communities and maintenance of the facility.
3. To train the womens group for day-to-day management of facility.
4.     To raise awareness on best practices in water and sanitation and climate change adaptation
Expected result
The successful implementation of this project will lead to the following results:
1.     Affordable and easy access to clean water and sanitation for over 120 households in Tsokpokope
2.     Increase community awareness on WASH best practices
3.     Reduced occurrence of water borne diseases
4.     Creation of 10 jobs for women and young people in the community
5.     Reduced vulnerability of young people to engage in conflicts or terrorism through mentorship sessions.
6.     Improved local economy of Abutia Amesianyakope
Sustainable Development Goals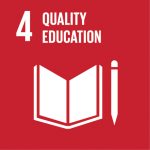 About me / organisation
Jacob Kwasi Amengor
Jacob Kwasi Amengor is a young water professional, who hails from Volta Region of Ghana. He has a Bachelor of Science Degree in Water and Sanitation from the University of Cape Coast. Amengor is the co-founder and chief coordinator of iWASH Africa and works with the Ghana Water Company Limited. He is the winner of the International Water Association Young Leadership Award 2018. Amengor loves to mentor, inspire and motivate young people to find solutions to challenges existing in the water sector because he believes that the successful realization of the Sustainable Development Goals depends on the abilities of young people. He is also Chairperson of the International Water Association Young Water Professionals - Ghana Chapter, part of the National Society of Black Engineers. He is also a Global Shaper at World Economic Forum Global Shapers Community Ho Hub