Stockholm World Water Week 2019
Young Professionals Booth (D01)
The YWC platform will be present at the SIWI World Water Week in Stockholm! The platform will be showcased on the Young Professionals Booth on Tuesday August 27th 13:00 – 18:30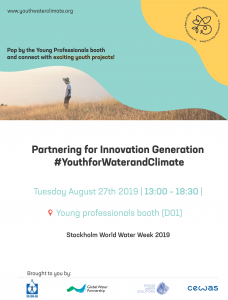 Partnering for Innovation Generation #YouthforWaterandClimate
Tuesday August 27th 2019 | 13:00 – 18:30 | Young professionals booth (D01)
Brought to you by: Global Water Partnership, International Secretariat for Water, Young Water Solutions & CEWAS
AGENDA                                                          
 

Ongoing

 

Crowdsourcing ideas in support of youth-led actions

Youth project leaders from around the world, selected and vetted by YWC partners (including ISW, GWP, CEWAS and Young Water Solutions), will be invited to showcase their projects.

Stop by, get inspired, and share your ideas for helping youth-led projects scale. You can also sign-up as a supporter to provide mentorship via the platform.

Ongoing
Navigate the Youth for Water and Climate Platform

All afternoon, the website will be accessible on a computer for people to try.

 

13:00 – 15:30
Quality Assurance Lab

During the quality assurance lab, youth project leaders will present their project proposals to a small group of reviewers and discuss in real time with the reviewers their strengths and possible areas for improvement. By applying the YWC approach to supporting project development, the objective is for young entrepreneurs and reviewers to connect around the project proposals and work together on strengthening them.

4 Young Water Fellows will be invited to present their projects to groups of 3 reviewers who will provide feedback using the YWC assessment grid.

15:30 – 16:30
Match-Making for Youth-led Problem Solving

Questions from companies and organizations with a water and climate related problem will be presented. Young leaders will be invited to apply their creativity, innovation, and expertise to propose matching water and climate solutions. The responses can be innovated on the spot or represent a pre-existing project.

Following an initial brainstorm, ideas will be workshopped in smaller groups.

17:00 – 18:30
Closing Event and Mingle – Enabling Youth-Led Projects

Closing event with high-level guests featuring youth-led projects and strategies to support them, followed by a reception and mingle with Young Water Fellows and other Young Water Leaders.

17:00 – 17:30 Young Water Fellows Pitch

Learn about the Young Water Fellowship and the water and climate solutions developed by young entrepreneurs in this fast-paced storytelling format.

17:30 – 18:00

·       Introductory words on the Youth for Water and Climate Platform and on the importance of supporting youth-led projects

·       Strategies for supporting youth projects

Interactive activity: Vote for your favourite crowdsourced idea!

·       Closing Words

18:00 – 18:30

Mingle. Come meet the Young Water Leaders!

Refreshments and appetizers courtesy of the Global Water Partnership.

 
 
Stockholm World Water Week 2019
A www.youthwaterclimate.org event
Brought to you by: