Information Webinar – Webinaire d'informations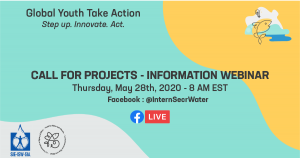 We're answering your questions! / Nous répondons à vos questions!
Join us for an information webinar on the Global Youth Take Action call for projects! / Rejoignez-nous pour un webinaire d'informations sur l'appel à projets La jeunesse mondiale passe à l'action.
The webinar will be streamed live at 8AM EST, Thursday May 28th, on the Facebook page of the International Secretariat for Water. / Le webinaire sera diffusé en direct sur la page Facebook du Secrétariat International de l'eau à 10AM EST, ce jeudi 28 mai.